Undergraduate - New Brunswick Convocation
Class of 2019
During the school year, you will be receiving information pertaining to convocation (graduation). Communication will be via email (default Scarlet Mail account and this website. Please be sure to check your spam folder if you are not receiving emails from the business school on a regular basis. It is your responsibility to read through all information and take action on the steps necessary to graduate.
The 2019 RBS Convocation ceremony is on May 16, 2019 at 10:30 a.m. at the Louis Brown Athletic Center (RAC).
University Commencement is scheduled for Sunday, May 19, 2019 at 10:00 a.m. at HighPoint.com Stadium.
All undergraduate business students participating in the May graduation ceremony are encouraged to attend both the RBS Convocation and the University Commencement to represent Rutgers Business School – New Brunswick.
Graduation is made up of two great events to celebrate your achievement: a School of Business convocation (at the Louis Brown Athletic Center aka the RAC – Rutgers Athletic Center) where you'll join with your business graduating class, walk across the stage and receive individual recognition, followed by the university-wide celebration (at the stadium on Sunday). We hope you will plan to participate in both programs.
Seniors who have completed their degree requirements in January 2019 or will be completing their degree requirements in May 2019 or August 2019 are permitted to walk in the RBS Convocation (Graduation) and University Commencement Ceremonies.
Enter to win a $100 Amazon gift card!
Are you a graduating senior? Complete the Rutgers Post-Graduation Survey and be automatically entered to win a $100 Amazon gift card! The survey is quick and easy. Simply log in with your RUID.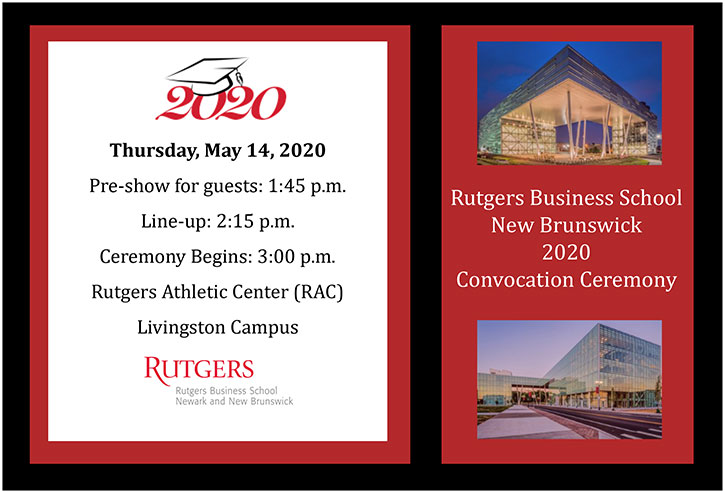 Registration for Convocation
Registration for convocation has been closed. If you are a graduating senior and did not register before the March 29th deadline, please email Michelle Tomitz at mtomitz@business.rutgers.edu.
On the day of graduation, your name, major, and honors designation will be displayed on the jumbotron screen as you walk across stage. If you need to make any changes to your name or major that will be displayed, please reach out to Michelle Tomitz at mtomitz@business.rutgers.edu. The firm deadline to make edits is April 30, 2019 at 5:00 PM.
Please note that there is no registration required for University Commencement.
RBS Convocation Ceremony Details
The RBS Convocation Ceremony will begin promptly at 10:30 a.m. and will last approximately 2 hours. Please work this timeframe into your lunch plans accordingly to avoid issues. Students will not be permitted to leave at any time during the ceremony. Measures will be in place as a precaution, so please plan accordingly.
RBS Convocation
Doors to the RAC will open at approximately 9:00 a.m. When graduates arrive, they are to make their way to the back of the RAC via the North and South Marshaling hallways. Graduates will begin lining up at 9:45 a.m. Graduates must check-in before lining up and obtain his/her personalized graduation card.
Guests are encouraged to attend the convocation pre-show that will comprise of student images, event photos, shout-outs, videos, fun facts, and more! The pre-show begins promptly at 9:15 a.m.
After the speeches are concluded, graduates will approach the platform by department and by last name. As each graduate's name is called, they will walk across the stage to receive their RBS gonfalon pin.
Diplomas are NOT given out at the RBS Convocation Ceremony. Please click here to access the Online Diploma Application. You will have until April 13, 2019 to apply. Diplomas will be mailed to the address listed on your diploma application approximately 6-8 weeks after graduation.
New Brunswick Convocation Speaker
The speaker for New Brunswick 2019 Convocation Ceremony is Jens Molbak.

University Commencement
View details regarding University Commencement.
Graduating with Honors
College Honors cords will be available to students with a 3.5 cumulative GPA or above as of the fall 2018 semester. No exceptions will be made. Gold honors cords will be available for pickup at 100 ROCK in the front lobby near the concierge desk on April 23rd, 24th and 25th between the hours of 1:00 p.m.-5:00 p.m. on each day. Gold cords will be provided by the Special Programs Office without charge, to honor your outstanding academic performance.
Beta Alpha Psi members: You may pick up your cords from Dornell Haurey in the Accounting Department in 100 Rock, South Tower, Room 4141 starting April 22, 2019.
Beta Gamma Sigma Members: Each BGS senior will receive gold and blue honor cords to wear at graduation. You may pick up your cords at the same days and times above when you pick up your gold honor cords.
Study Abroad Grads: If you've studied abroad, don't forget to order your global stole from the Study Abroad office. Please contact the Study Abroad Office directly for more information.
Cap and Gowns
Graduation cap, gowns and gold hoods for Rutgers Business School students can be purchased at the Barnes and Noble College Bookstore, which is located at 100 Somerset Street in New Brunswick. The RBS gowns are black with a red panel down the front middle. The Bachelor of Science degree is represented by the gold hood. The red and black tassel for the cap should start on the student's right and be moved during the ceremony to the left.
Student regalia will be available for purchase at the Barnes & Noble Bookstore located at 100 Somerset Street in New Brunswick beginning on April 5th. Regalia will be sold during regular business hours through the morning of commencement in the bookstore. This year the bachelor sets will run about $80 for the cap, black gown with red panel, red and black tassel and gold hood. Make sure you indicate you are an RBS student so you are given the correct regalia! We also highly suggest that you pick up your cap and gown sooner than later to avoid long lines at the bookstore.
Students also have the option to pre-order online by March 22. Online orders will be available to pick up starting April 24, 2019 and available to purchase in store starting April 5, 2019.
Each year, the Barnes and Noble College Bookstore holds a Grad Fair where students can purchase his/her cap and gown, learn about and see the selection of class rings, personalized announcements, diploma frames, and much more during this exciting time. The Grad Fair will be held on April 24 - 25, 2019 from 10 am -6 pm at the Barnes and Noble College Bookstore at 100 Somerset Street in New Brunswick.
If you are a graduating senior in need of financial assistance with purchasing graduation regalia, please email the Cap and Gown Request form to Michelle Tomitz at mtomitz@business.rutgers.edu. Requests will be honored on a first-come first-serve basis and student's eligibility will be verified by the Financial Aid Office before a Cap and Gown is dispersed.
Cap and Gown Recycle Program
Close to 800 RBS graduates wear graduation gowns each year. What happens to those gowns after the ceremony? Usually they go into the trash or remain in closets for years to come before they are finally discarded. This year RBS would like to help graduating seniors save money by implementing The RBS Cap and Gown Recycling Program which will enable RBS to offer graduating seniors a free cap and gown. The savings is around $80 per senior but we need your help.
All graduating seniors that donate their gently worn RBS cap, gown, and hood will be entered into a lottery to win a prize!
Cap and gowns can be donated right after the conclusion of the RBS Graduation Ceremony on May 16th. There will be a large clothing rack with a sign outside of the front of the RAC so that you can conveniently donate your cap and gown after the ceremony. If you choose to decorate and keep your cap, you may only donate the gown and hood. Please note that if you plan on attending University Commencement on Sunday, May 19, 2019, you will not donate your cap and gown until after University Commencement is over.
You may drop off your cap and gown at the Undergraduate Programs Office from May 20, 2019-May 31, 2019 (weekdays only) between the hours of 9:00 p.m.- 4:30 p.m. The Undergraduate Programs Office is located on the first floor of the Rutgers Business School Building, North Tower. Gowns can be dropped off with the RBS Student Ambassadors located at the reception desk. Make sure your name is added to the Gown Recycling Drop Off-List in order to receive credit.
Invitations
Invitations to the RBS Convocation and University Commencement will be available for pickup at Rutgers Business School in the front lobby near the concierge desk on April 23rd, 24th and 25th between the hours of 1:00 p.m. - 5:00 p.m. on each day. A maximum packet of six graduation invitations will be available to you; however, you may invite as many guests as you wish to either ceremony. Please note that you MUST complete the RBS Undergraduate Survey before you pick up your invitations. Details on the survey are below.
Mandatory Student Surveys
Before you pick up your graduation invitations, you are required to fill out one online survey – the RBS Undergraduate survey.
The NB Undergraduate survey will be emailed to your Rutgers email account (@scarletmail.rutgers.edu or @rutgers.edu) around mid-March 2019. You must complete the Undergraduate survey before you come to RBS to pick up the Graduation invitations.
Parking
RBS Convocation Parking:
Parking is available on Livingston Campus and is free.
RBS Convocation Handicap drop off/parking:
Please use the Green Lot which can be accessed via Hospital Road off of Avenue E for handicap drop-off area and handicap parking spaces. Handicap spaces will be first come, first served. For directions to the Louis Brown Athletic Center (RAC), please click here.
University Commencement Parking:
With more than 40,000 people expected on our campuses in Piscataway and New Brunswick for Rutgers University Commencement on Sunday, May 19, 2019, we know that parking will be challenging.
University Commencement Online Parking Hangtag Registration
Online registration for free Commencement parking hangtags will begin in March 2019. Students are required to register online (Net ID required) for up to two free parking hangtags for themselves and their guests. Note that parking permits issued by Rutgers Department of Transportation Services for use during the year will not be valid for parking on that day. Parking locations are assigned on a first-come, first-served basis.
Special needs parking is available and requires a special Rutgers Commencement parking hangtag. More details about parking, getting around, and registration is available in the Parking & Getting Around section of the University Commencement website.
Handicap Seating
RBS Convocation
There will be handicapped seating available in the RAC during the RBS Convocation. No reservations are necessary. Please look for the signage for handicapped seating on the first level.
University Commencement
There will be limited handicapped seating available at the Stadium for University Commencement. Please check the University Commencement website for more details by clicking here.
Photography
A professional photographer from Island Photography will take pictures of each individual student on stage during the RBS Convocation ceremony and also when they exit the stage they are pulled aside for a portrait shot. RBS is not affiliated with any other outside photography vendors. If you intend to take photos through a different photography vendor, make sure you are wearing the Rutgers Business School cap and gown (black with red panel down the front center, black cap, red & black tassel). Senior pictures are not mandatory.