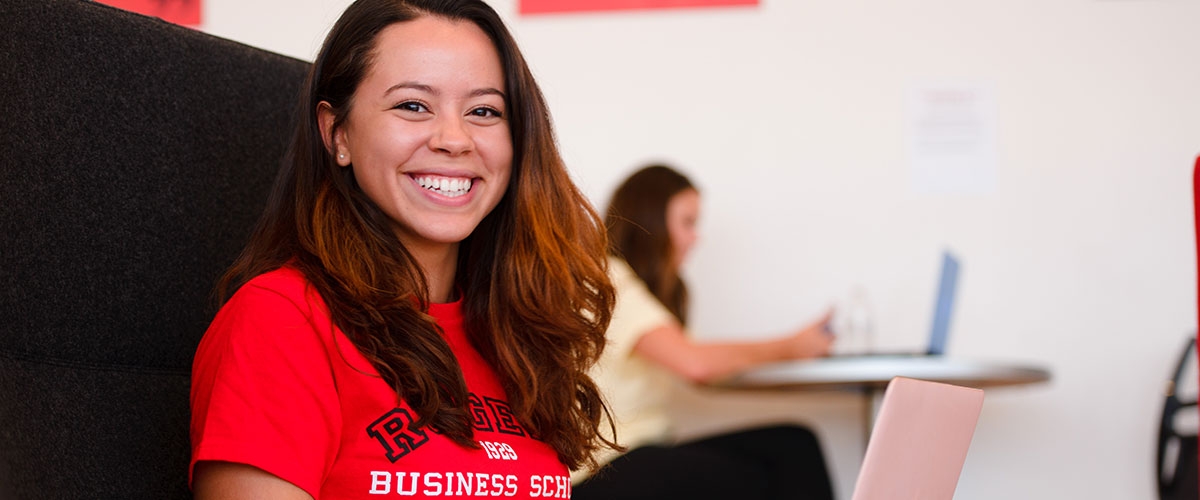 Undergraduate New Brunswick Students
Course Registration Instructions
Students admitted as first year students will declare their business major and begin taking business courses during the spring semester of their sophomore year. 
Students admitted as transfers into the junior year will be automatically registered for business courses (as long as they have completed the six required courses) for the fall semester in which they begin their business studies. 
Upon declaring their business major, students will be given a suggested sequence in which they should take their business courses.  It is strongly recommended that students follow this scheduling sequence since this procedure allows for the orderly progression through the Business School program, and a reduction in difficulties students ordinarily have during registration.
Read more
The courses which students take to complete their majors follow a relatively consistent pattern.  There are certain Junior (300) level courses which students must take in order to satisfy prerequisites for upper (300 and 400) level courses.  Students may not add courses for which they have not successfully completed the necessary prerequisite.  Students may change into new sections or add additional courses to their schedules if space is available in the sections desired.  Given the limited availability of Business School-New Brunswick courses, special permission is not granted for closed courses or sections of courses.
Courses which are considered to be electives in the programs will be selected by the student during the appropriate semester.  Students may take major electives any time they have the necessary prerequisites.  If the number of credits indicated does not make up a full program, students should supplement their schedules with either liberal arts and sciences electives, or other business electives in their major area.
Registration for matriculated students is held in November for the following spring semester and April for the following fall semester. Students are responsible for monitoring the accuracy of their registration each semester, for completing the degree requirements as outlined in their program of study, and for avoiding scheduling courses for which credit already has been granted, either at Rutgers University or by transfer. Details about registration and changing of courses may be found under registration and the drop/add policy sections of the University Policies and Procedures section of the catalog. The university reserves the right to restrict registration in all courses offered and, when necessary, to cancel courses previously announced.
Registering for Courses in Other Institutions
Matriculated students must receive prior approval for courses they intend to take for credit at another college or university.
Students are not permitted to be enrolled simultaneously at Rutgers-New Brunswick and another institution during the fall or spring semester.
RBS Resources
Areas of Study
Academic Advising
Career Management
Student Organizations
Mentoring
Forms
More