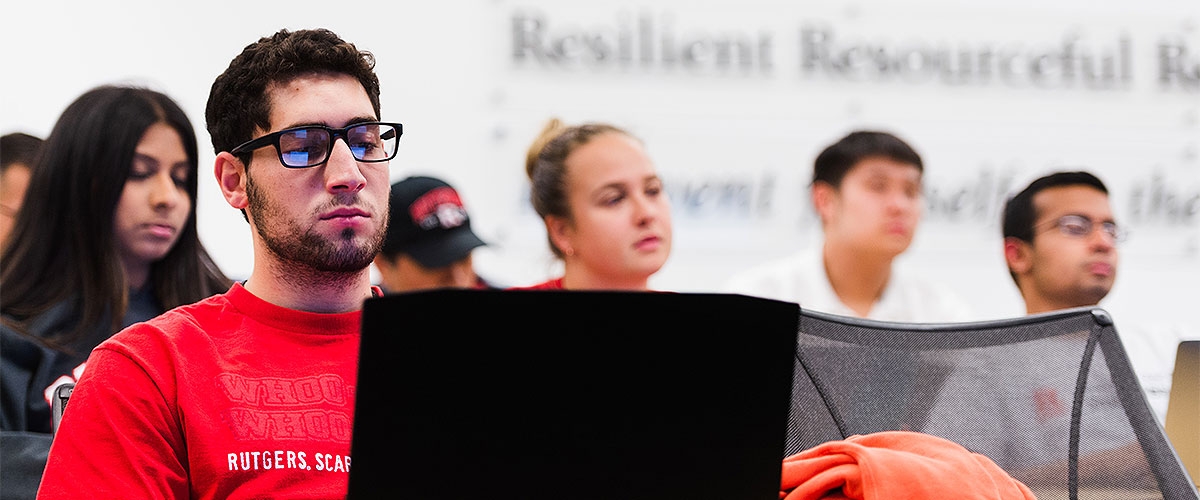 Academic Advising and Student Services
Academic advisement is a collaborative process between students and their advisor. They are partners in meeting the essential learning goals that support student success. Academic advisement is a process in which it is the responsibility of the student to take the lead and responsibility for their academic career. Advisors provide the students with the tools, direction and appropriate referrals to assist them in meeting their educational goals.
Student Responsibilities
Acquire the information needed to assume responsibility for course scheduling, program planning, and the successful completion of all degree requirements.
Use the RBS Undergraduate Program-New Brunswick Website, Schedule of Classes, Degree Navigator and WEBREG to check major/minor requirements and prerequisites for courses.
Use the RBS Undergraduate Program-New Brunswick website, academic calendars, and information posted by your academic advisors to be aware of all RBS-NB policies, procedures and deadlines.
Check your Scarletmail email account regularly and read all messages from your RBS advisors and official university offices. Follow us on Instagram at @ru_business, Facebook, and Linkedin to get up to the minute information pertaining to the Office of Undergraduate Programs and the Office of Career Management.
Meet with your assigned RBS Academic Advisor at least once a year to ensure your timely and satisfactory progress towards completion of all degree requirements.
Arrive to appointments on time and prepared.
Seek assistance from your assigned RBS Academic Advisor whenever you have questions or concerns.
Use campus resources and services to assist you in achieving your academic, personal and career goals.
Follow through when referred to other administrative offices and resources.
Be professional, courteous, and respectful.
Advisor Responsibilities
Develop a thorough knowledge of degree requirements for the business programs and a working knowledge of academic options and resources throughout the University.
Provide students with clear and accurate information regarding university policies, procedures, deadlines and services to students.
Assist students with making educational plans that are consistent with their goals, abilities, and interests.
Clarify General Education or SAS Core and major/minor requirements.
Offer recommendations and strategies for academic success.
Refer students to the appropriate support services and departments as needed.
Be professional, courteous, and respectful.
Confidentiality/FERPA
The Family Educational Rights and Privacy Act of 1974, commonly referred to as FERPA or the Buckley amendment, is a federal law designed to protect the privacy of a student's educational record. FERPA applies to all educational agencies or institutions that receive federal funding for any program administered by the Secretary of Education. FERPA also applies to private entities that contract to perform services for the University that it would otherwise undertake to perform on its own; in such cases, the private entity must observe the same FERPA protections applicable to the University. FERPA grants adult students (18 and older) the following rights:
The right to inspect and review their educational records
The right to seek the amendment of their educational records
The right to consent to the disclosure of their educational records
The right to obtain a copy of their school's Student Records Policy
The right to file a complaint with the FERPA Office in Washington, D.C.
FERPA Basics
With only a few exceptions, student educational records are considered confidential and may not be released without the written consent of the student.
Faculty or staff members have a responsibility to protect educational records in their possession.
Faculty or staff members may only access information that is needed for legitimate completion of their responsibilities as a university employee.
Information regarding FERPA and FERPA waivers
Course Sequencing
Upon declaring their business major, students will be given a suggested sequence in which they should take their business courses. It is strongly recommended that students follow this scheduling sequence since this procedure allows for the orderly progression through the Business School program, and a reduction in difficulties students ordinarily have during registration

Students admitted as first-year students may declare their business major and begin taking business courses as long as they have completed the six pre-business requirements.

Students admitted as transfers into the junior year will be automatically registered for business courses (as long as they have completed the six pre-business requirements) for the fall semester in which they begin their business studies.

The courses which students take to complete their majors follow a relatively consistent pattern. There are certain Junior (300) level courses that students must take in order to satisfy prerequisites for upper (300 and 400) level courses. Students may not add courses for which they have not successfully completed the necessary prerequisite. Students may change into new sections or add additional courses to their schedules if space is available in the sections desired. Given the limited availability of Business School-New Brunswick courses, special permission is not granted for closed courses or sections of courses.

Courses that are considered to be electives in the programs will be selected by the student during the appropriate semester. Students may take major electives any time they have the necessary prerequisites. If the number of credits indicated does not make up a full program, students should supplement their schedules with either liberal arts and sciences electives or other business electives in their major area.
What is my class year?
Class year is determined by the predicted year and month of graduation. Students are classified according to whether they have declared their major and the year in which they will graduate.
| Class Year | Graduation Date |
| --- | --- |
| Senior | January, May, or August 2021 |
| Junior | January, May, or August 2022 |
| Sophomore | January, May, or August 2023 |
| First Year | January, May, or August 2024 |
*Student will rise to the next class year in August of each year.
Students are reviewed for graduation eligibility based on their declared class year and graduation month. Therefore, students must keep the Office of Undergraduate Programs-New Brunswick apprised of their anticipated graduation year and month.
You can update your graduation date by filling out a Reclassification form. Requests may be denied after review by an academic advisor if it is determined you do not meet the requirements to graduate in your requested class year.
Virtual Advising
"Walk-in" advising hours are unavailable during the summer semesters. You may email your advisor directly for assistance. Please see below to locate your advisor's contact information. Do not email multiple advisors. It is a poor use of resources and impedes the efficiency of responding to student inquiries.
Who is my Advisor?
Student Population

Last name

Advisor Email

First Year

A through L

First Year

M through Z

Sophomore

A through L

Sophomore

M through Z

Junior

A through L

Junior

M through Z

Senior

A through L

Senior

M through Z

SASHP Honors Program, honors inquiries only*

All

School to School Transfers
prior to the beginning of the
semester

All

External Transfers
prior to the beginning
of the semester

All

Minor in
Business Administration
(Non-RBS students only)

All

Minor in
Business Entrepreneurship
(Non-RBS students only)

All
*RBS students in the SASHP Program with Non-Honors related inquiries please see your regular RBS advisor. Honors College students please see your Honors College advisor, click here for information.