Webex Meetings
Faculty Resources and Tutorials
What is Webex Meetings?
Cisco Webex is a real-time video, voice, and chat communications software platform. It enables users to host and participate in virtual meetings with two or more people securely from anywhere with a reliable internet connection. Webex offers high-definition video, screen sharing, in-meeting chat, voice calling, document sharing, and virtual whiteboard collaboration. Webex at Rutgers can support up to 1000 participants in a single meeting.
When should I use Webex Meetings?
For meetings with staff and other faculty, for office hours with students and for real-time video lectures to students. Webex Meetings is a robust and secure platform.
Webex Meetings how-to resources
Pedagogical Best Practice & Recommendations for Large Lectures
Video: Participant Menu Settings

Mute microphones on Entry (Mute on Entry): The instructor can mute student microphones when they join the session however that student is able to unmute their individual microphones themselves.
Quickly mute all participants (Mute All)– If the host right-clicks on any participant's name, one of the menu items that will appear is Mute All. This allows the host to quickly mute all participants on the call without having to determine exactly who's microphone is not on mute. The same option is also available on the Participant Menu.
Disable Entry and Exit Tone (Entry and Exit Tone): When a student joins or leaves a Webex session, there is an audible tone that is heard. This can be very distracting but easily disabled from the participant menu options.
Disable a student's ability to share content (Anyone Can Share): An instructor can disable the ability for content to be shared during the class session outside of what they share directly.

 

Assign Privileges (Sub-menu on the Participant Menu)

Disable a student's ability to chat: An instructor can disable a student's ability to chat with other students and only the instructor or TA for questions.
Disable a student's ability to view the participant list: An instructor can disable a student's ability to view others on the call.
Disable a student's ability to Share Documents
Disable a student's ability to Annotate

If using a webcam, turn it on/test it out: If you need to adjust the view, you can before anyone arrives! Make sure you are not sitting directly in front of a light source or a messy background, if possible.
Confirm that users can hear you before you start: Before you get started, ask your students to confirm that they can hear you (they can type yes or no in the text chat) and if they can see your slides (if you've uploaded any).
Determine how questions will be asked: Prior to the start of the session inform students as to how they can ask a question. Chat is advisable for larger sessions.
Additional options for securing your meeting:
Lock Webex meeting room for added security: A faculty member may want to consider locking the meeting or class session once started to prevent unauthorized attendee access. This can be done quite easily from the Meeting Menu within the application.

For a scheduled meeting any additional participants who attempt to join once the meeting is locked will be blocked.
For a meeting in your personal Webex meeting room, any latecomers will be placed into a virtual lobby. The host will be notified and have the ability to let them into the session.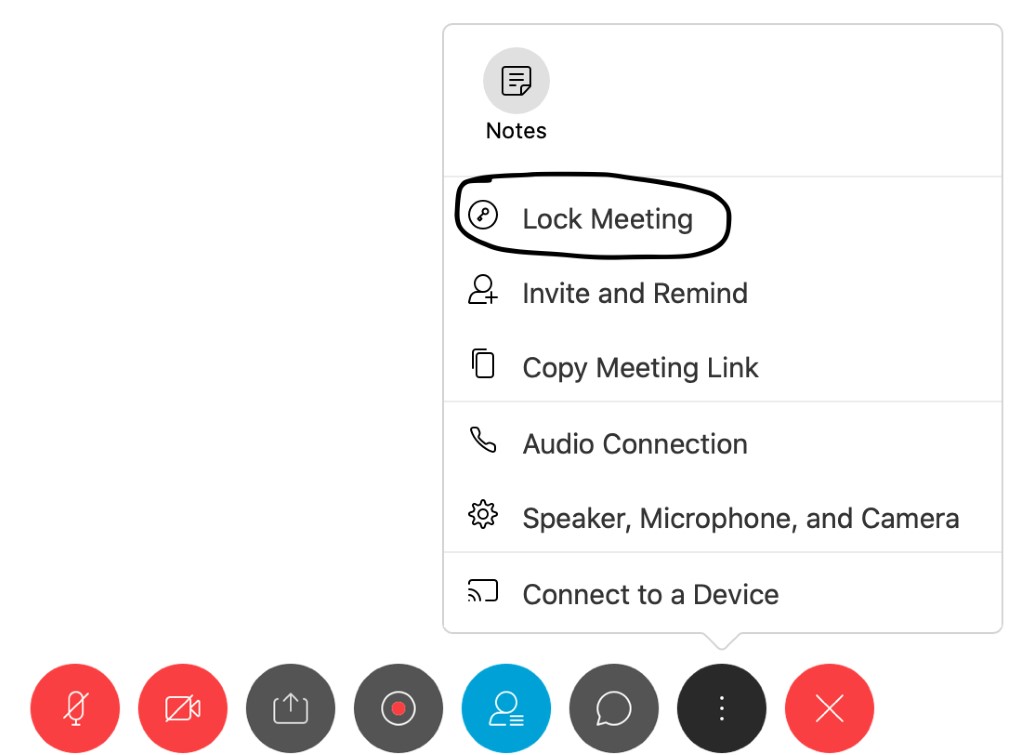 Share the meeting link only through the LMS: This ensures that only class participants will have access to the meeting link unless one of them then copies and shares this information.
Expel unruly students from class: If the need arises to remove a student from the class, first follow the procedure to lock the meeting room then right-click on the individual's name and select either Expel or Move to the lobby.
Require attendees to have a Webex account to join your meeting – This setting can be found in the Scheduling Options section when creating the meeting and will force attendees to have a Webex account on Rutgers.webex.com to join your meeting. This will ensure that all attendees are valid Rutgers faculty, staff, or students and force them to authenticate with their NetID and password. (Note: if you plan to have external participants in your class, this option will not be possible)