American Production and Inventory Control Society (APICS)
Rutgers Newark Student Chapter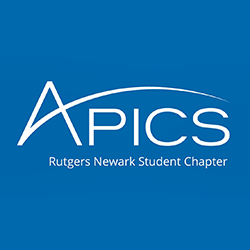 Our Mission
To increase the impact of APICS on the RU-N student body, the Newark community, and our corporate partners.
About RU-N APICS
The RU-N APICS Student Chapter is an affiliated chapter of the national APICS organization. Supply Chain Management (SCM) is a rapidly growing and developing field that offers a variety of career opportunities. If you have an interest in supply chain or you're not sure what supply chain is all about, but you want a dynamic career that can span in any industry, then come join us in one of our meetings or connect with one of our E-Board members to see what we are all about.
Our purpose is to supplement what is learned in the classroom with tangible industry exposure, to cultivate a strong nexus of Supply Chain Management students, giving them access to opportunities to grow their personal network. We strive to impact our community, showing them how supply chain affects our everyday life.
Membership Benefits
Leadership Development
Networking with Professionals
Introductory Supply Chain Experience events
Community Service
How Can I Join APICS?
Becoming an official member of APICS is easy! Sign into your RaiderLink account, search "APICS", and Join! Events will be posted on our RaiderLink site for members to participate in.
Executive Board Members
Vice President of Operations
Diana Cadena
Vice President of Campus Relations
Binod Bhat
Chief Administrative Officer
Jill Mehta
Chief Operating Officer
Sophia Yoon
Treasurer
Vinisha Kapadia
Chief Marketing Officer
Soha Sheikh
Chief of Student Engagement
Mychainah Joseph
Chief of Social Responsibility
Disha Derashri