Rutgers Sports Business Association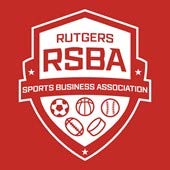 Mission
Help Rutgers students who have a passion for sports and business get their foot into sports
business with networking opportunities with professionals in the industry.
About Rutgers Sports Business Association
The Rutgers Sports Business Association functions as a student organization that encourages its members to use it as a medium to pursue something that they might not be able to do independently. We, as a club, facilitate a sport-enthusiast culture combined with a business-focused mission of delivering to a market; the Rutgers students. For example, we can receive press credentials to Rutgers' athletic events and allow our members to experience what it would be like to have a profession in that field and even get to write an article for our blog, RSBA.net.
Membership Benefits
Majority of meetings will have an interview with a sports business professional where members can network and ask any questions they may have
Access to tours of Rutgers Athletic Facilities
Opportunity to write for the club blog and share their article on Linkedin and other social media platforms
Opportunity to join the club podcast where we discuss sports stories, sports business, and interview industry professionals
Opportunity to get media credentials to Rutgers home games
How can I join the Rutgers Sports Business Association?
Join the RSBA getInvolved page. Also, follow the RSBA Instagram page @rutgerssba to stay updated on all meetings and events.
Executive Board Members
Vice President
Anil Uppal
Connect with us on Social Media!